Best
Seafood
White River Fish Market
FINALISTS: Bodean Restaurant & Market, Yokozuna
Best
Chinese
P.F. Chang's
FINALISTS: Golden Gate, Pei Wei
Best
Italian
Mondo's Ristorante Italiano
FINALISTS: Dalesandro's, Ti Amo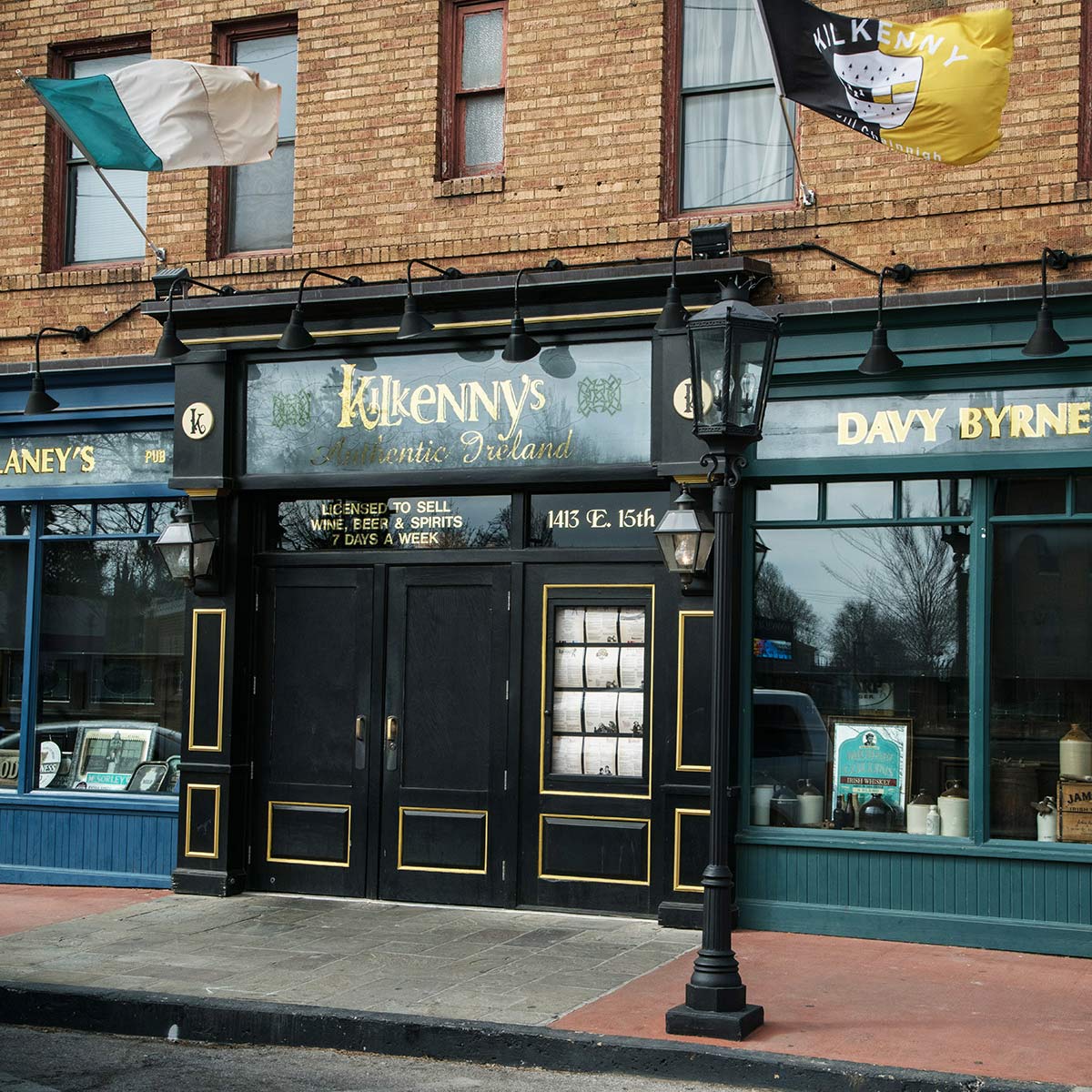 Kilkenny's
Irish Pub
Kilkenny's is midtown's Emerald Isle, and the pub has one of the most extensive and consistent menus in town—plus rotating special monthly menus. The servers and bartenders are friendly and knowledgeable, and many of them have been there for years. Their drink menu features at least 12 Guinness concoctions, including the Bee Sting (Ketel orange vodka), the Blue Velvet (Angry Orchard cider, Fonseca ruby port), and the award-winning Guinness Bloody Mary, which pairs perfectly with a breakfast boxty or benedict. It's also the place to go for a late-night snack—they have deals every night after 10 p.m. 1413 E. 15th St. | tulsairishpub.com
Best
Brunch
FINALISTS: Dilly Diner, SMOKE. on Cherry Street
Best
Service
FINALISTS: Bull in the Alley, The Tavern
Best
Bloody Mary
FINALISTS: McNellie's Public House,
SMOKE. on Cherry Street
Best
Late-Night Dining
FINALISTS: Tacos Don Francisco, Phat Philly's
Best
New Bar
Roosevelt's
FINALISTS: Cabin Boys Brewery, The Starlite
Best
Grocery Store
Reasor's Foods
FINALISTS: Sprouts Farmers Market, Trader Joe's
Best
Bakery
Antoinette Baking Co.
FINALISTS: Ann's Bakery, Merritt's Bakery
Best
Coffee Shop
Coffee House on Cherry Street
FINALISTS: Shades of Brown, Topeca Coffee
Best
Liquor Store
Parkhill's Warehouse Liquors & Wines
FINALISTS: Deep Discount Wine & Liquor, Ranch Acres Wine & Spirits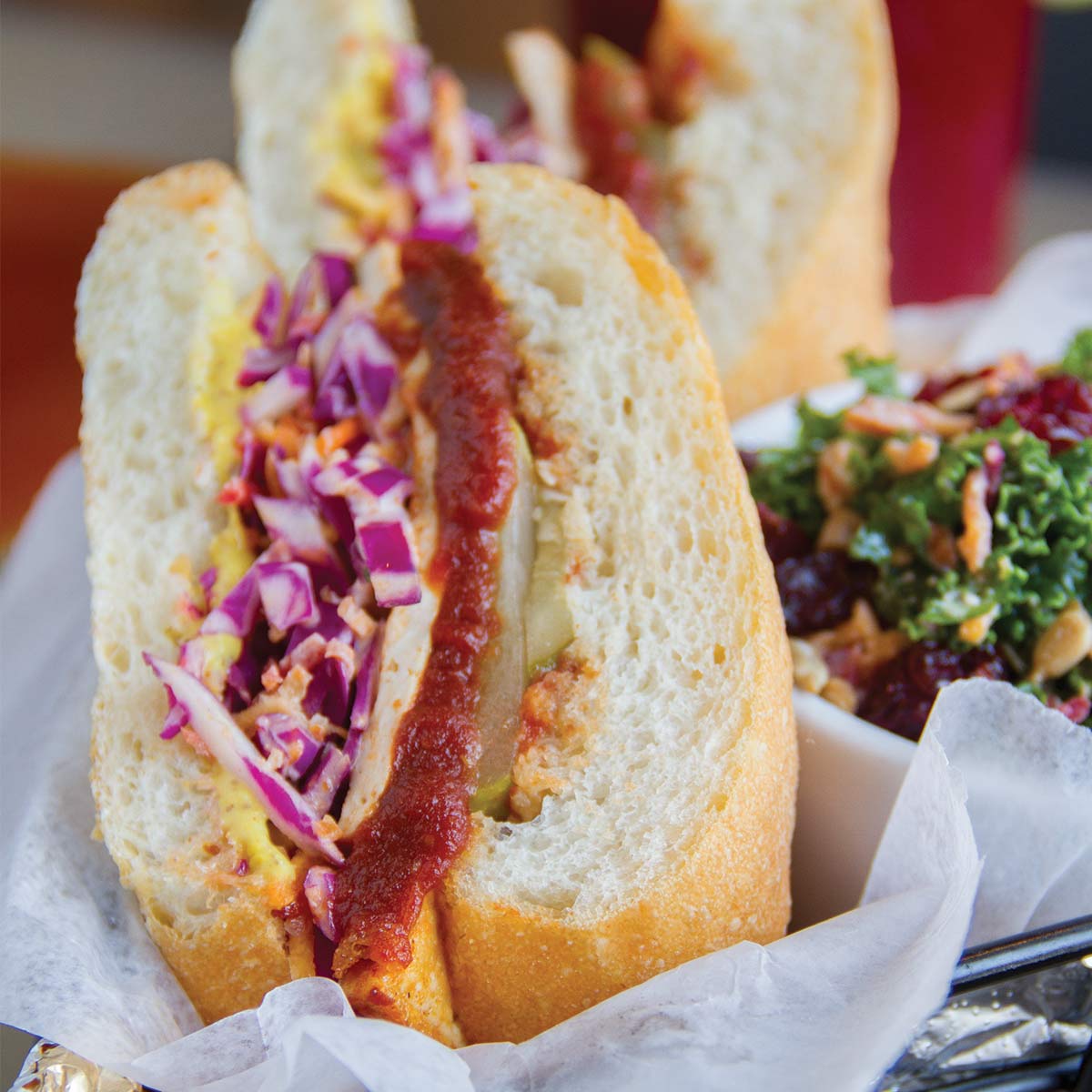 Best Vegetarian/ Health Food
Chimera Cafe
FINALISTS: Big Al's Healthy Foods, Zoës Kitchen
Half of Chimera's menu includes vegan/vegetarian-friendly options, and many of their items can be made gluten-free. Open from breakfast to late-night in the Tulsa Arts District, this health-conscious café and bar depends on partnerships with local farms like Dry Creek Refuge, 413 Farm, West O' Main, Lomah Dairy, and Fisher's Eggs. Chimera is also serious about coffee—they offer beans from local and established roasters, as well as six different brew methods, including Nitro, which is served cold and without ice. Their inventive cocktails flaunt house-made syrups and fresh juices, and their taps are always rotating beer options. And their sandwiches are as packed as their salads are stacked (the delicious kale-based Lily's Special Salad is topped with smoky hummus, avocado, cashew cheese, and adzuki strips, which are a hearty and flavorful vegetarian alternative to bacon). 212 N. Main St. | chimeratulsa.com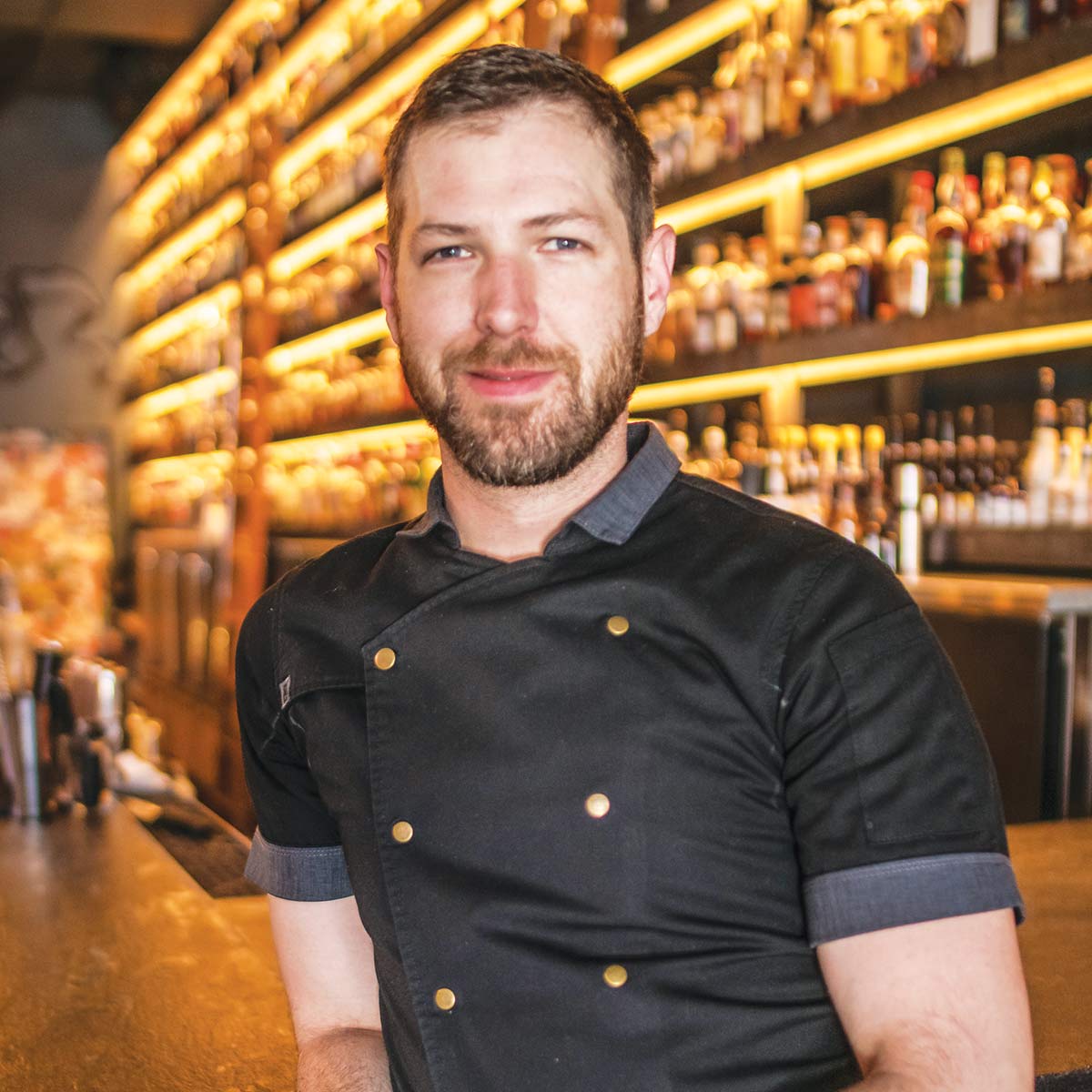 Best Bartender
Aaron Post – Valkyrie
FINALISTS: Gavin Hatcher – Saturn Room, Lynn Robertson – The Starlite
Though Valkyrie owner Aaron Post is busy getting a new Blue Dome District bar in order, he has been known to get behind the bar at Valkyrie now and again. "I built Valkyrie so we could have a place to have world-class cocktails in a fun-loving environment," he said. "Our mantra is 'playfully serving serious drinks.'" Post's favorite cocktail depends on the day, though lately he calls a Boulevardier his go-to. But if he ordered a drink using Valkyrie's three-word choose-your-own-adventure option? "Bitter, strong, innovative," he said. Valkyrie expanded their spirit library in May 2017, adding shelves and a dreamy rolling ladder system. "We opened with 80 spirits and liqueurs in 2012, and we added shelves because I started collecting rare and harder-to-find spirits," Post said. Now, Valkyrie has about 680 and counting. "It's a fun project." 13 E. M.B. Brady St. | valkyrietulsa.com
Best
Food Truck
Lone Wolf BanH Mi
FINALISTS: Andolini's Pizzeria, Mr. Nice Guys
Best
Chicken Fried Steak
The Brothers Houligan
FINALISTS: Charleston's, The Brook Restaurant & Bar
Best
Sandwich
Phat Philly's – Phat Philly's Cheesesteak
FINALISTS: Lassalle's New Orleans Deli – Po Boy,
Lone Wolf Banh Mi – Banh Mi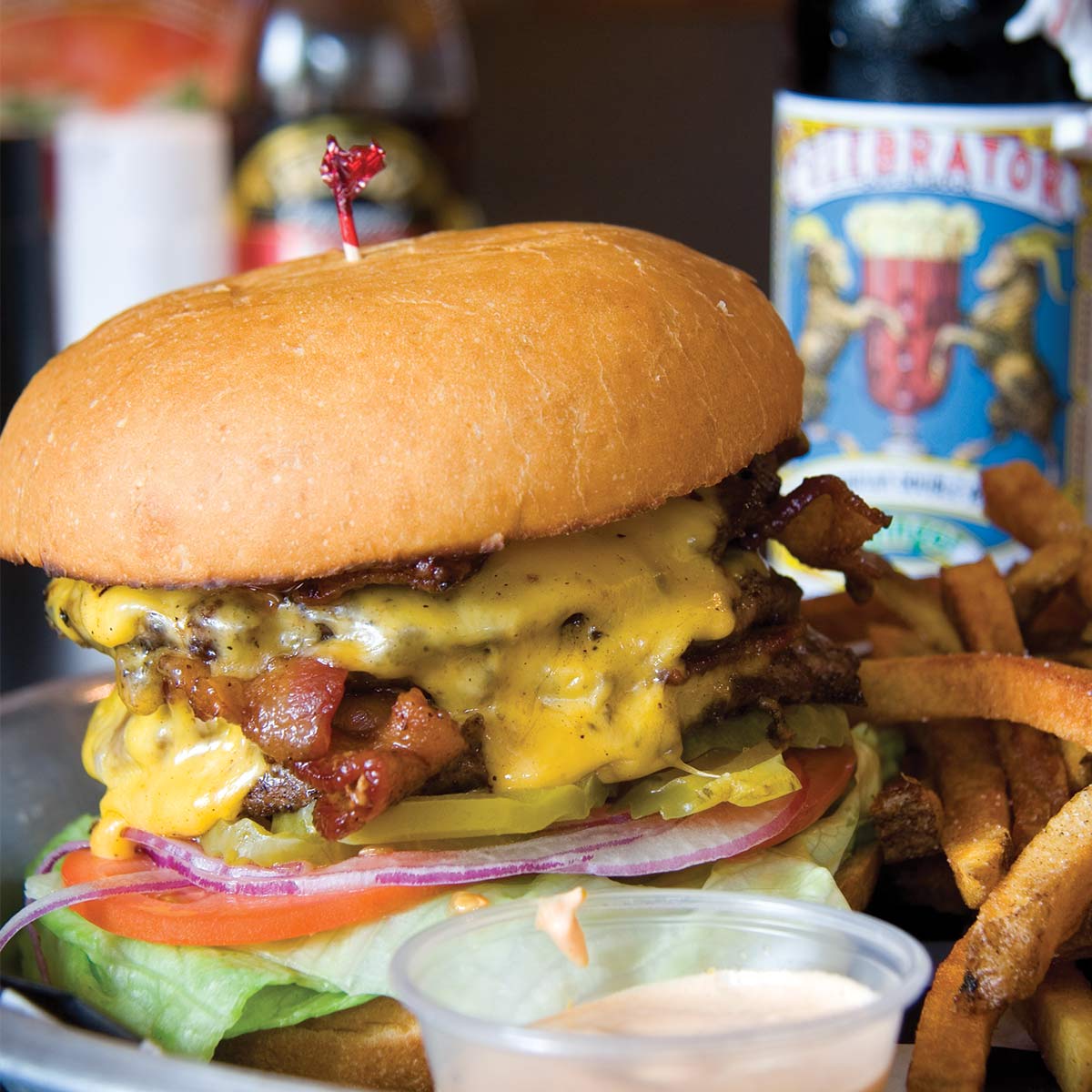 Best Burger
Fat Guy's Burger Bar
FINALISTS: Ron's Hamburgers & Chili, The Tavern
In a city of great burgers, the Fat Guy's burger customization is unmatched. Each of us has unique tastes and preferences, and Fat Guy's embraces the personal touch, celebrating all that a burger can be. With nearly twenty toppings available at no extra charge, you're free to create the burger of your dreams, whether that means playing it safe with the usual suspects or swinging for the fences with (for example) a jalapeño relish/green chiles/grilled pineapple pizza burger. In opening the door to such variety, Fat Guy's burgers are seasoned with the spice of life. 140 N. Greenwood Ave., 7945 S. Memorial Dr., and 1009 N. Elm St., Broken Arrow | fatguysburgers.com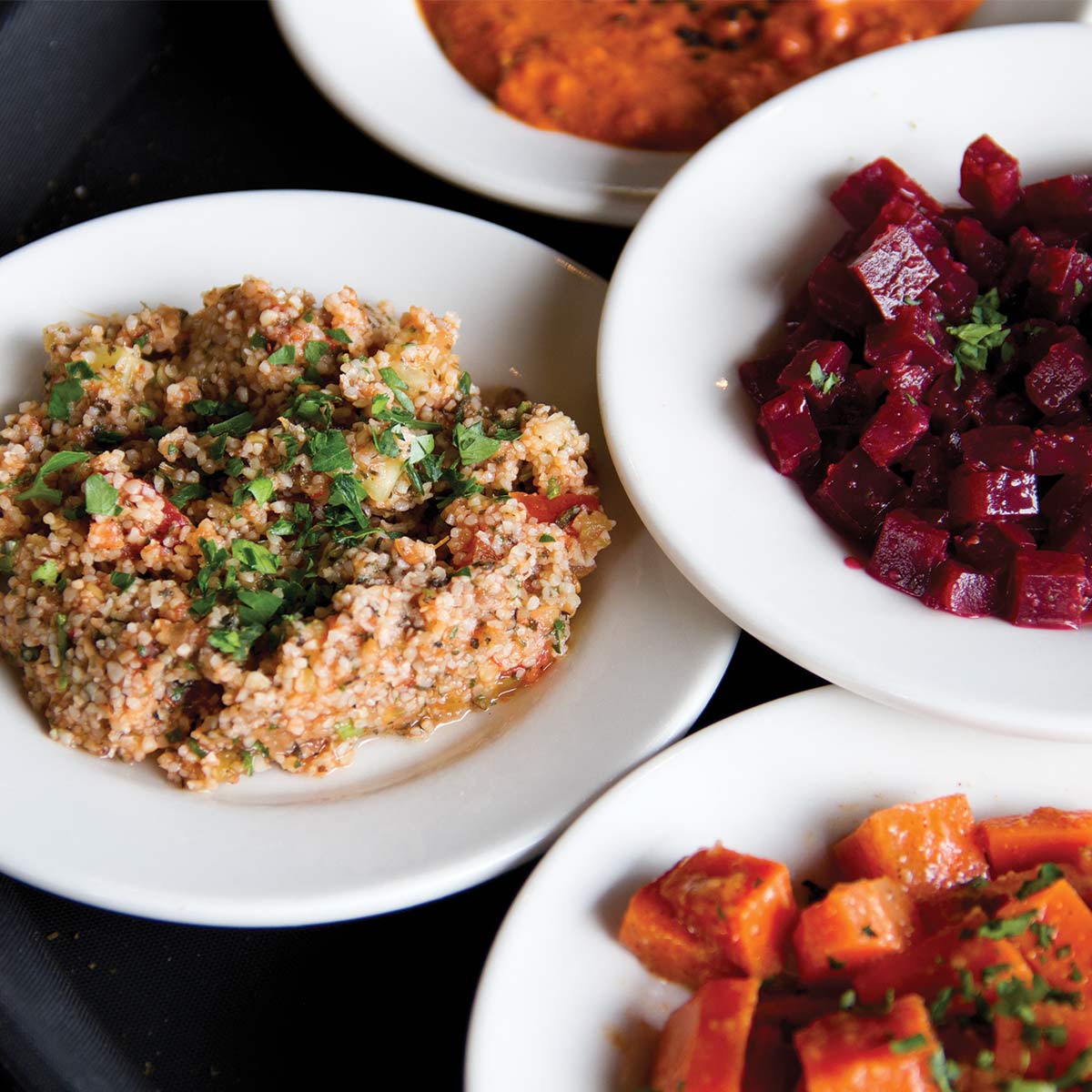 Best Middle Eastern/ Mediterranean Laffa Medi-Eastern
Restaurant & Bar
FINALISTS: Papa Ganouj, Zoës Kitchen
The chefs at Laffa know the food might be a little foreign to Oklahomans, so they suggest going on this culinary adventure with friends. Share an appetizer—tabouli or harissa carrot salad, a Greek dip or West African hummus—before moving on to choose an entrée, something like dhofar lamb for meat-lovers, or mujadarra for vegans. You might struggle to pronounce your orders the first time around, but don't worry—the wait-staff and bartenders are more than happy to help with recommendations. 111 N. Main St. | laffatulsa.com
Best
Pizza
Andolini's Pizzeria
FINALISTS: East Village Bohemian Pizzeria, Hideaway Pizza
Best
Chef
Ben Alexander – The Tavern, Bull in the Alley
FINALISTS: Roque Heidler – The Chalkboard,
Trevor Tack – McNellie's Group
Best
Takeout Pizza
Hideaway Pizza
FINALISTS: Andolini's Pizzeria, Pie Hole Pizzeria
Best
Tacos
Tacos Don Francisco
FINALISTS: Elote Cafe & Catering, Torchy's Tacos
Best
Farmers Market
Cherry Street Farmers Market
FINALISTS: Rose District Farmers Market, Bixby Farmers Market
Best
Barista
Rachel Webb – The Gypsy Coffee House
FINALISTS: Andrew Jolly – DoubleShot Coffee Company,
Devin Parham – Topeca Coffee
Best Steak
Bull in the Alley
FINALISTS: Mahogany Prime Steakhouse, SMOKE. on Cherry Street
Look for the green doors and the titular trinket in the titular alley to find our readers' vote for best steak in Tulsa. The alley is behind The Tavern, with which the Bull shares a kitchen. The fixtures and dress of the place are beyond opulent, and wandering through the innocuous emerald doors for a first time is like stepping into the ballroom scene from "The Shining." The food ain't cheap, but they do serve Miller High Life. The alley | bullinthealley.com
Best Indian
India Palace
FINALISTS: Desi Wok, Himalayas - Aroma of India
Tulsa doesn't have a lot in the way of Indian food—an all-day buffet and a Pan-Asian restaurant form the bulk of our offerings—but everything we have is surprisingly great for a mid-sized Oklahoma city. India Palace offers a great lunch buffet, but the spot is certainly one to choose for a date. Beautiful tapestries and fixtures adorn the restaurant, and the dishes live up to the ambiance. Their menu is precisely what you would imagine from the best Indian restaurant in town, and they have what one New York television culinary chef told us is "the best rice pudding [he'd] ever had." Their individual dishes are incredible, but the lunch buffet is always there for unadventurous eaters who need a wide selection to try—or overadventurous eaters who aren't afraid to go four-plates. 6963 S. Lewis Ave. | theindiapalacetulsa.com
Best Diner
Dilly Diner
FINALISTS: Brookside By Day, Tally's Good Food Cafe
With décor of yore, food for modern tastes, and breakfast served all day, it's clear why Dilly Diner takes this title. Their menu ranges from classics like griddle cakes and burgers to exciting entrées like Bananas Foster French toast (yes, please) and mac 'n cheese carbonara. But even the simple items are diddied up: garlic and chipotle aiolis, homemade brioche, house-made pickles—plus a bakery case full of pies, cookies, cupcakes, what have you. Here's brunch advice: Green eggs and ham and a coffee cocktail. 402 E. 2nd St. | dillydiner.com
Best Deli
Trenchers Delicatessen
FINALISTS: Jason's Deli, Lambrusco'z
Regulars of Trenchers Delicatessen give a common warning: If you're going for lunch, get there early. The crowd that bustles into Trenchers throughout the day is a testament to the food's exceptional taste. But one look at the sandwiches—from the Dutch Crunch (a micro-green-and-avocado-stuffed turkey sandwich) to the chicken swizzle (a garlic-marinated and cucumber pickle-topped grilled chicken flatbread)—makes even the most skeptical deli-goer a believer. 2602 S. Harvard Ave. | facebook.com/trenchersdeli
Best
Thai
Lanna Thai
FINALISTS: KEO Asian Cuisine, My Thai Kitchen
Best
Vietnamese
Lone Wolf Banh Mi
FINALISTS: Pho Nhi Vietnamese Noodle House, Ri Le's
Best
View
The Penthouse Bar at The Mayo Hotel
FINALISTS: Blue Rose Café, El Guapo's Cantina
Best
Korean
Lone Wolf Banh Mi
FINALISTS: Korean Garden, Gogi Gui
Best
Japanese/Sushi
Yokozuna
FINALISTS: In the Raw, Osaka
Best
Mexican
El Tequila
FINALISTS: El Guapo's Cantina, El Rio Verde
Best Restaurant for Locally Sourced Ingredients
Elote Cafe & Catering
FINALISTS: Bramble Breakfast & Bar, Chimera Cafe
Opened in 2008, Elote was the first Tulsa restaurant to recycle, compost, and use biodegradable takeaway containers. The restaurant has proven a dedication to sustainability and local foods, proudly partnering with such vendors as Greenwood Farm, Highland Dairy, Pancho Anaya Panaderia, Lucy's Tortillas, J-M Farms, Cheatwood's Honey, Thirst Wines, Marshall Brewing Company, Prairie Artisan Ales, Coop Ale Works, R&G Family Grocers, Eden Veggies, and others. Elote offers a mix of classic Mexican fare and newer takes, like quinoa or jackfruit tacos. 514 S. Boston Ave. | elotetulsa.com
Best Breakfast
Brookside By Day
FINALISTS: Dilly Diner, Tally's Good Food Cafe
Whether you're off to an early start or nursing the self-inflicted wounds from a few hours earlier and a few blocks up the road, Brookside By Day has you covered. For those in the latter camp, an Angel Fire Burrito or Fred's Country Benny—both served with T-Town's most beloved home fries—might not only save your life, but also your soul. And since the addition of a bar a few years back, that salvation can come with the requisite dose of hair of the dog. 3313 S. Peoria Ave. | brooksidebyday.com
Best Dive Bar
Soundpony
FINALISTS: Arnie's Bar, Mercury Lounge
An argument could be made that Tulsa's best dive is actually Club Sidewalk. There's always a post-2 a.m. gathering outside Soundpony, where revelers linger in a last-ditch effort to keep the party rolling. It's equally a place of hope and of lament. But Club Sidewalk doesn't serve drinks. And Soundpony has hot dogs. 409 N. Main St. | thesoundpony.com
Best New Restaurant
Torchy's Tacos
FINALISTS: Amelia's Wood Fired Kitchen, Roosevelt's
Though new to Tulsa, your choice for Best New Restaurant has been around since 2006, when it began as a single trailer in Austin. Years of experimentation and recipe tweaks have resulted in staples like carnitas and beef barbacoa sharing menu space with less common—though no less delicious—taco fillings like blackened salmon and fried chicken. Now, Tulsa's Torchy's is one of nearly 60 locations across Texas, Colorado, and Oklahoma. Viva la revolución. 3330 S. Peoria Ave. | torchystacos.com
Best
Barbecue
Burn Co Barbecue
FINALISTS: Albert G's Bar-B-Q, Oklahoma Joe's Bar-B-Cue
Best
Family Dining
Hideaway Pizza
FINALISTS: The Brook Restaurant & Bar, Charleston's
Best
Patio
Blue Rose Cafe
FINALISTS: El Guapo's Cantina, Roosevelt's
Best
Wine List
Vintage 1740
FINALISTS: Polo Grill, The Wine Loft
Best
Cocktails
Valkyrie
FINALISTS: Cosmo Cafe, Hodges Bend
Best
Brewery
Marshall Brewing Company
FINALISTS: Cabin Boys Brewery, Prairie Artisan Ales
Best
Bar for Smokers
Arnie's Bar
FINALISTS: Caz's Pub, The Yeti
Best
LGBT Bar/Club
Club Majestic
FINALISTS: Soundpony, Yellow Brick Road
Best
Place to Watch the Big Game
Elgin Park
FINALISTS: Bricktown Brewery, Fassler Hall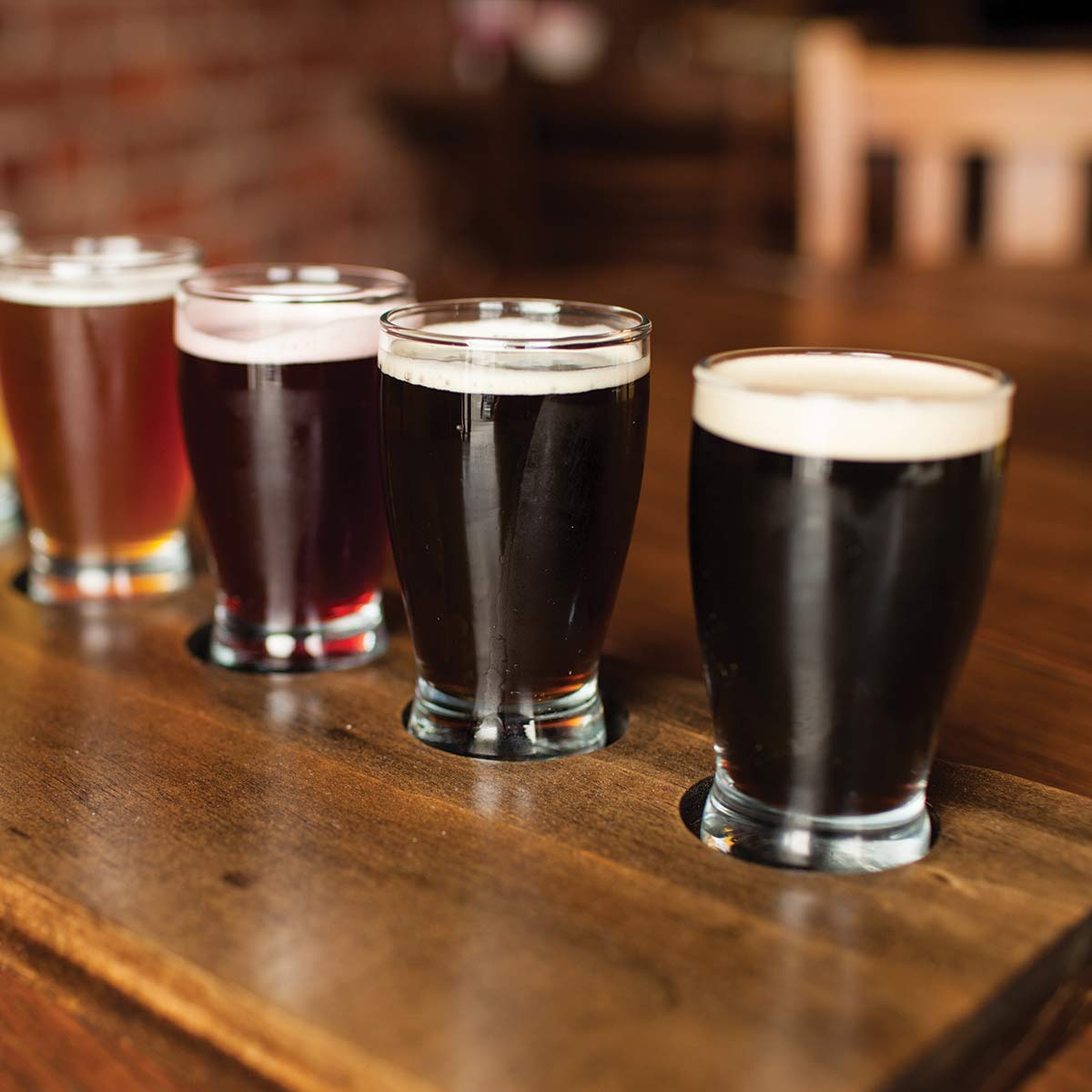 McNellie's
Public House
It's commonly believed in Ireland that you can't beat pub food, and McNellie's makes that the truth in Tulsa, too. As well as traditional pub fare like fish and chips, cottage pie, and chicken curry, you'll find menu items to please any picky eater. From chips and queso to sweet potato fries to damn good burgers, McNellie's is the best place to pair a drink—from an extensive 300+ beer list—with a meal. Be advised: It's just $4 for a burger and fries every Wednesday night. 409 E. 1st St. and 7031 S. Zurich Ave. | mcnellies.com
Best
Bar Food
FINALISTS: Elgin Park, Fassler Hall
Best
Spot for Day Drinking
FINALISTS: Fassler Hall, Hodges Bend
Best
Beer Selection
FINALISTS: Roosevelt's, Prairie Brewpub
Best
Gallery
Living Arts
FINALISTS: Arts & Humanities Council of Tulsa Hardesty Arts Center, Tulsa Artists' Coalition Gallery
Best
Museum
Philbrook Museum of Art
FINALISTS: Gilcrease Museum, Woody Guthrie Center
Best
Record Store
Starship Records & Tapes
FINALISTS: Josey Records, Spinster Records
Best
Open Mic
The Gypsy Coffee House
FINALISTS: The Colony, The Fur Shop
Best
Trivia Night
Trivia with Jack at Soundpony
FINALISTS: Fuel 66 Tulsa, Saturn Room
Best
Comedy Night
The Loony Bin
FINALISTS: The Fur Shop, Soundpony Comedy Hour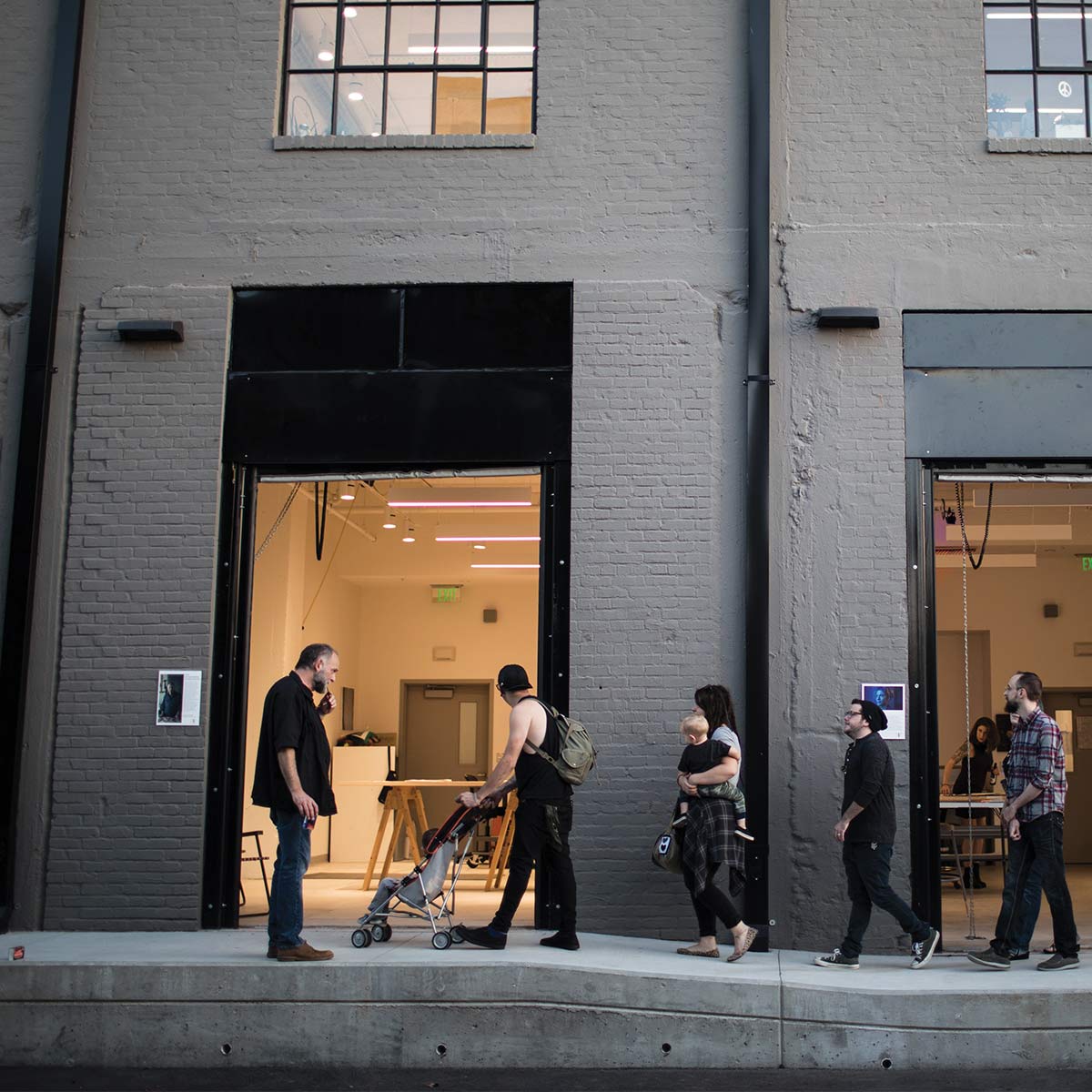 Best Public Art
First Friday Art Crawl
FINALISTS: Día de los Muertos Murals, Woody Guthrie Center Mural
One of the many draws in the Arts District is the First Friday Art Crawl. Participating cafés, shops, galleries, and bars feature a wide range of local art the first Friday of every month, and many complement their impromptu galleries with live music performances. The First Friday Annual Portrait Show (this year held on May 5), located in the alley behind The Tavern and Prairie Brewpub, features portraits of Tulsans by total strangers and is especially popular. Tulsa Arts District | thetulsaartsdistrict.org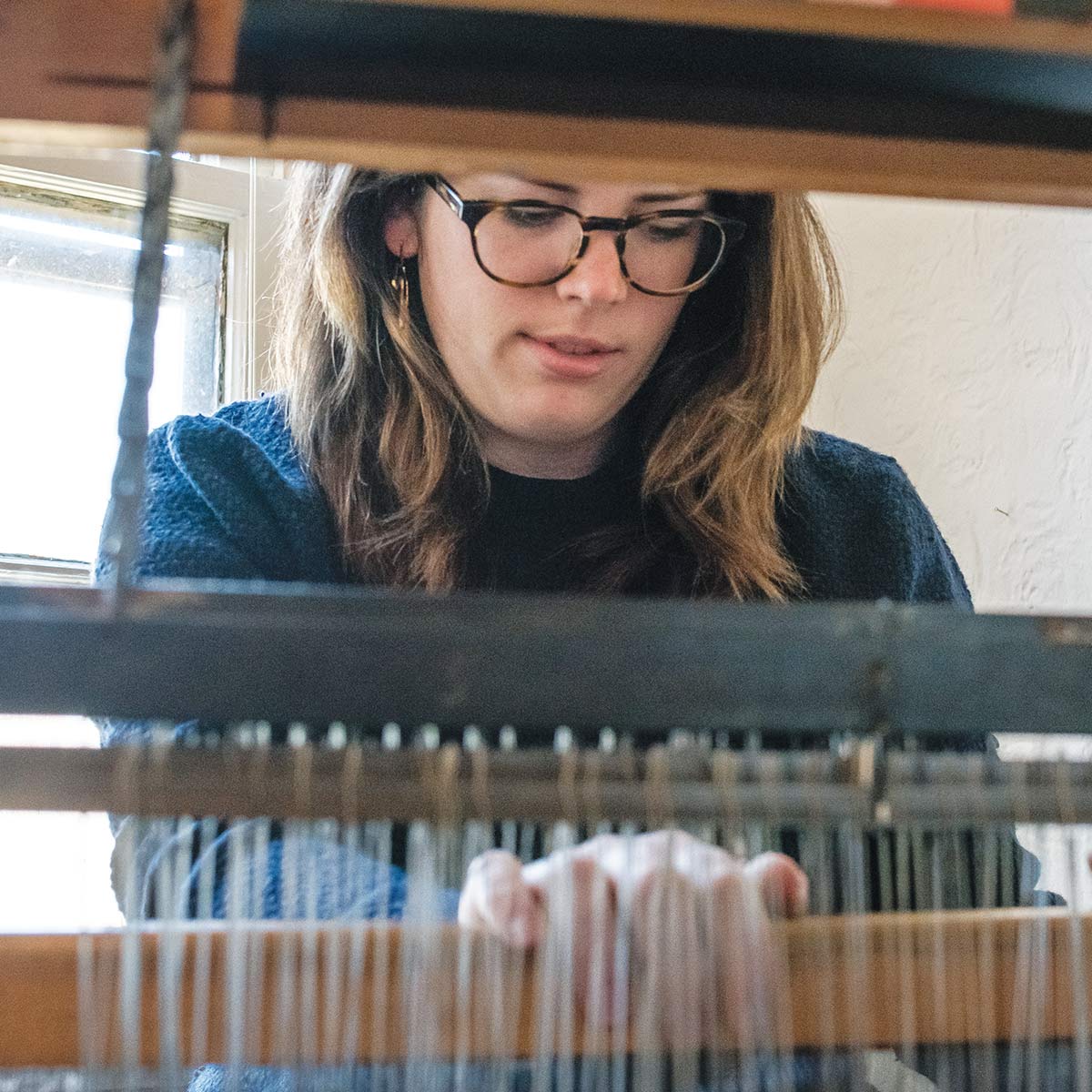 Best Visual Artist
Sarah Sullivan
FINALISTS: Tyler Thrasher, Chris Mantle
Sarah Sullivan wants to make your dreams come true. Specifically, your dreams of cuddling with confetti and making geometry "all shapes, no math." Her art, branded under Sullystring, takes the forms of wall hangings, pillows, paintings, murals, and placemats. You might recognize her colorful, whimsical work from the outer walls of the Gateway building (home of Habit Mural Festival and First Street Flea), the entryway at The First Ward hair studio, Philbrook Museum of Art's gift shop, Domino magazine's December 2017 issue, and this Best of Tulsa cover. Sullystring is poppin'! sullystring.com
Best
Performing Arts Space
Tulsa Performing Arts Center
FINALISTS: Guthrie Green, Living Arts
Best
Party of the Year
Cry Baby Hill
FINALISTS: Linde Oktoberfest, St. Patrick's Day Block Party in the Blue Dome District
Best
Small Music Venue
The Vanguard
FINALISTS: The Colony, Soundpony
Best
Karaoke
The Warehouse Bar & Grill
FINALISTS: Elote Cafe & Catering, The Starlite
Best
Movie Theater
Warren Broken Arrow 18
FINALISTS: AMC Southroads 20, Circle Cinema
Best
Photographer
Valerie Grant
FINALISTS: Western Doughty, Jeremy Charles
Best Performing Arts Company
Tulsa Ballet
FINALISTS: Theatre Tulsa, Tulsa Symphony
Tulsa Ballet is a not-for-profit professional ballet company that has blended contemporary and classical dance for Oklahomans every year since 1956. Today the organization maintains its determination to bring world-class ballet to the Midwest heartland. Artistic Director Marcello Angelini has been widely recognized for his creative innovation and international influence—in February this year, Tulsa Ballet brought the U.S. premiere of "Strictly Gershwin," the company's largest production to date, requiring at least 38 dancers, four singers, and roughly 50 musicians. 1212 E. 45th Pl. | tulsaballet.org
Best Casino
Hard Rock Hotel & Casino
FINALISTS: Osage Casino Tulsa, River Spirit Casino Resort
Quantifying "Best Casino" is a little tricky. Does it mean loosest slots, best free soft drink stations, or most confusing carpet patterns? In the case of Hard Rock Hotel & Casino, it could mean all three … but they certainly get a leg up with their concerts and celebrity guests. The likes of ZZ Top and Elvira have stopped by in the past, and upcoming events include the Cherokee musical Nanyehi and Jay Leno and his big-ass chin. 777 W. Cherokee St., Catoosa | hardrockcasinotulsa.com
Best Podcast
The Sound of Tulsa
FINALISTS: From a Basement in Tulsa, Opinions Like A-Holes
The Tulsa podcasting scene is reaching critical mass, with everybody and their mother, and their mother's mother, seeming to spend weekly time behind the mic. We believe Mayor Bynum issued a decree that every standup comic must have at least three podcasts in development at all times. Our readers zeroed in on The Sound of Tulsa as their favorite podcast. The weekly 'cast features in-depth interviews from Tulsa's historically rich, currently booming music scene. soundcloud.com/thesoundoftulsa
Best Local Album Big Bad Luv by John Moreland
FINALISTS: Red Dirt Improvisations – Dean DeMerritt, Zunis – Zunis
On his third album, Moreland explores new directions in both sound and songwriting. The cathartic melancholy he's known for is still present, but it's joined by the wisdom that comes with going through the ringer and coming out on the other side, an appreciation for perspective gained through tough times, and hope that the lessons learned can carry us through trials ahead. On the album's penultimate track, Moreland sings, "Don't let me turn to dust to turn a phrase/Could you help me wash these years off of my face?/'Cause they don't suit me, babe, like before." John Moreland is looking forward. johnmoreland.net
Best Free
Entertainment
Guthrie Green
FINALISTS: First Friday Art Crawl in The Tulsa Arts District, Soundpony
Best
Night Club
Soundpony
FINALISTS: Club Majestic, The Unicorn Club
Best Annual
Festival
Linde Oktoberfest
FINALISTS: Blue Dome Arts Festival, Mayfest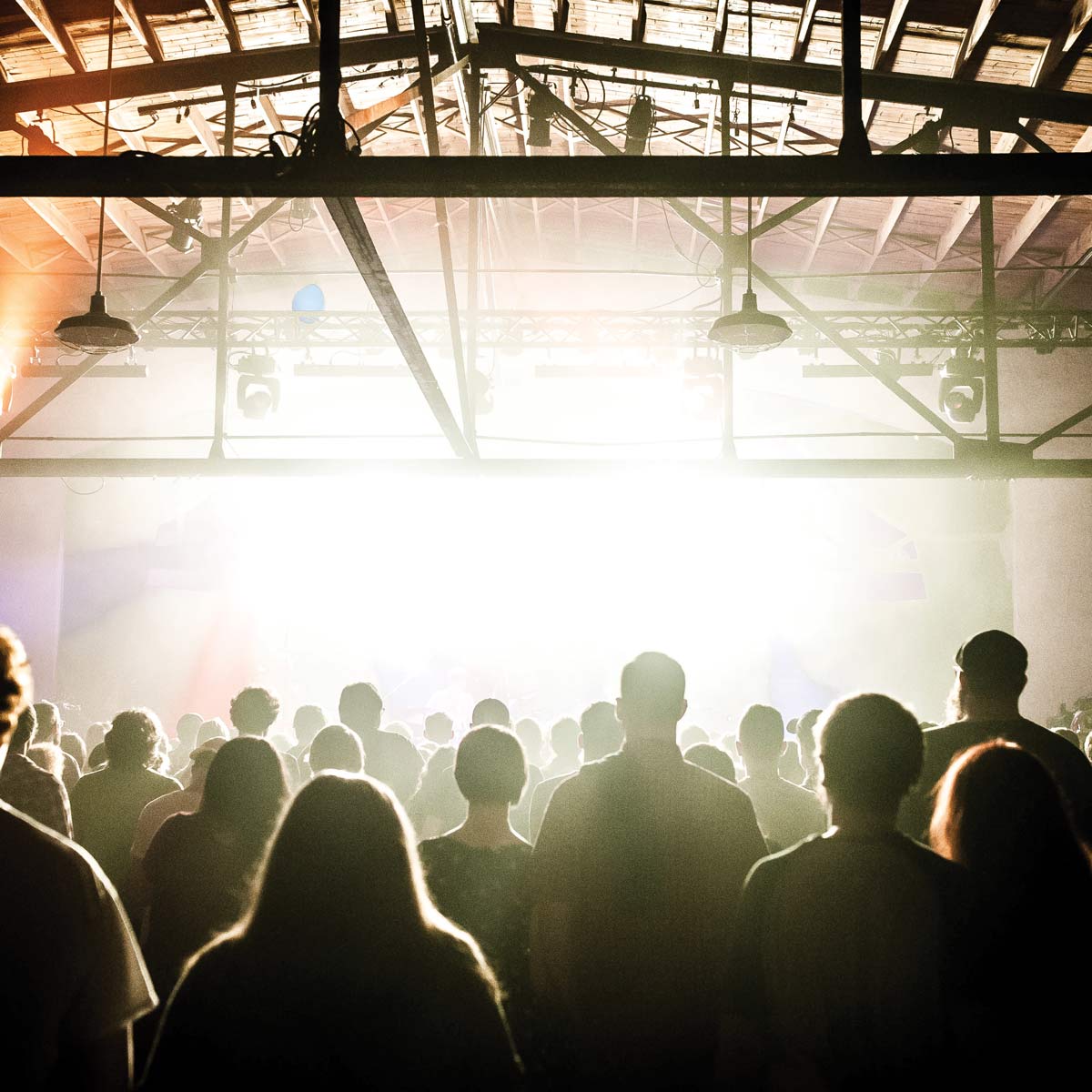 Cain's
Ballroom
Best
All-Ages Venue
FINALISTS: BOK Center, Guthrie Green
Best
Place for Live Local Music
FINALISTS: Guthrie Green, The Colony
Best
Large Music Venue
FINALISTS: BOK Center, Brady Theater
Best
Place to Dance
FINALISTS: Club Majestic, Soundpony
Best
Place to Take Out-of-Towners
Downtown Tulsa
FINALISTS: Philbrook Museum of Art, The Tulsa Arts District
Best
Vintage Clothing Store
Cheap Thrills
FINALISTS: Goodwill, Vintage Vault
Best
Antique Store
Retro Den
FINALISTS: River City Trading Post, Vintage Vault
Best
Nonprofit
George Kaiser Family Foundation
FINALISTS: Domestic Violence Intervention Services, John 3:16 Mission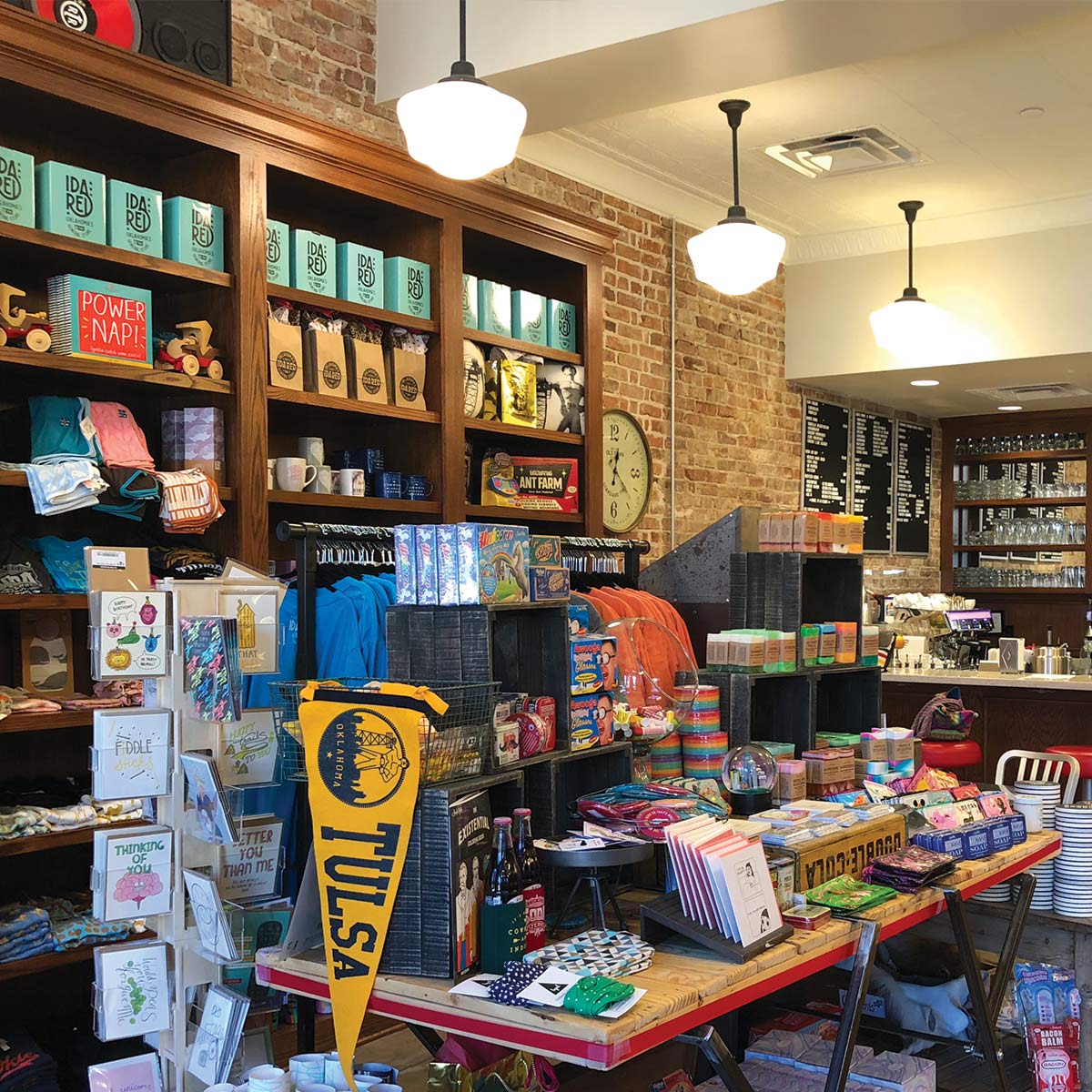 Best Local Gift
Ida Red
FINALISTS: The Boxyard, Dwelling Spaces
For ten years, Ida Red has filled a niche in Tulsa's gift-giving heart—or at least in owner Angelene Wright's. After moving from manager to owner, Wright adopted an ambitious goal: making products she wanted but couldn't find. Tulsa t-shirts, mugs, and even snow-globes can be found on the shelves, but souvenirs and city merch are just part of what's for sale. Ida Red is designed to be family-friendly and holds a wide appeal in selection and price. "Fun stuff," Wright said. "Toys, things that make people happy, that's what I'm in the business of." In execution, that means anything from Golden Driller plushies to bacon-scented soap. At the Tulsa Arts District location you'll find more ephemeral joy in the forms of strawberry sundaes, chocolate milkshakes, root-beer floats, and old-fashioned candy. 3336 S. Peoria Ave. and 208 A N. Main St. | idaredgeneralstore.com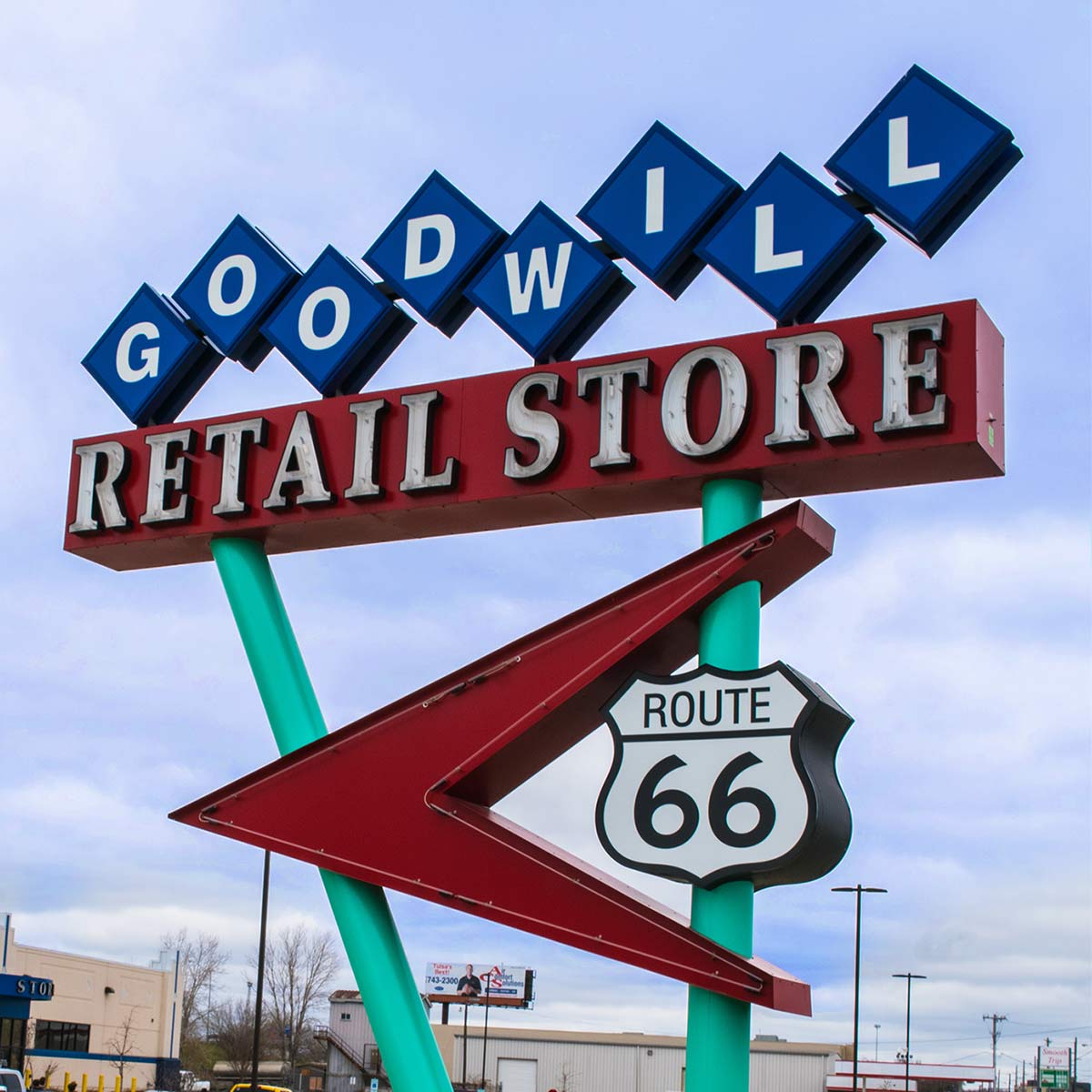 Best Clothing Store
Goodwill
FINALISTS: Dillard's, Urban Outfitters
Who needs a trip to the mall when you can stock up on vintage Michael Jordan tees, fanny packs, and tie-dye raincoats at the same place you get your used Left Behind hardbacks? Thrift stores have been the cornerstone of alt-fashion for years. Garage rockers, second-hand-hype-beasts, and all manner of weirdos shape our current fabric zeitgeist, and they do it largely from the racks of consignment stores. Goodwill is the Metallica of thrift. Even if you don't need a Big Johnson shirt, you'll find donation locations all over town for people to drop their no-longer-wanteds. It's not just contrarian fashionistas searching the racks, after all, but also smart families on a shoestring budget who won't pay full price for something that'll hit these aisles in a year's time. Various locations | goodwilltulsa.org
Best
Place to Shop Green
Cherry Street Farmers Market
FINALISTS: Sprouts Farmers Market, Trader Joe's
Best
Place to Learn Something New
Tulsa City-County Library
FINALISTS: Philbrook Museum of Art, Tulsa Community College
Best
Picnic Spot
Woodward Park
FINALISTS: Guthrie Green, River Parks
Best
Place for Cycling
River Parks
FINALISTS: Cry Baby Hill, Turkey Mountain Urban Wilderness Area
Best
Running/ Cycling/ Athletic Store
Fleet Feet Sports
FINALISTS: Lululemon, Tom's Bicycles
Best
Foot Race/Run
Tulsa Run
FINALISTS: The Color Run, McNellie's Pub Run
Best Tattoo Artist
Kris "Squiggy" Snead – Black Gold Tattoos & Piercings
FINALISTS: Dustin Charles – Pen and Ink Tattoo, Kasey Wolfenkoehler – Mi Familia Tattoo
When he's not playing drums in street punk band The Stiffies, Kris "Squiggy" Snead is permanently scarring Tulsan skin at Black Gold Tattoos & Piercings. Traditional style tattoos—your dice, lucky 13s, and nautical stars—routinely flow from his machine, but he's made a solid name for himself with his incredibly detailed, photo-realistic portraits. Just like you should never trust a skinny chef, you should never trust a tattoo artist without ink on his hands. Squiggy's knuckles, and his portfolio, should put you at ease. Black Gold Tattoo & Piercing, 3415 E. 11th St. | squiggytattoo.com
Best Hotel
The Mayo Hotel
FINALISTS: Ambassador Hotel, Hard Rock Hotel & Casino
This downtown hotel building is well near a century old, though its luxuries are pleasantly modern. After a $42 million-dollar renovation, The Mayo ensured its spot as a prime location for events and elegant stays. Extravagant spenders can enjoy king-size suites and luxury apartments, and they can host events for up to 500 guests. The rest of us can visit The Boiler Room restaurant and bar or the rooftop Penthouse Bar, voted the best view in Tulsa. 115 W. 5th St. | themayohotel.com
Best Bullshit Caller
Blake Ewing
FINALISTS: Western Doughty, John Waldron
Blake Ewing is the only bullshit caller on the list of nominees to have his bullshit routinely called by other nominees. He's also the only bullshit caller on the list of nominees to have his bullshit texts publicly printed by a Pulitzer Prize finalist who nearly received the award for her bullshit calling and suing of the state for execution records. Ewing is a Tulsa City Councilman, though he is not seeking reelection.
Best Place for People Watching
Tulsa State Fair
FINALISTS: Guthrie Green, Walmart
Enthusiasm. You'll see it on the faces of nearly every person at the Fair. Enthusiasm for adventure is in the eyes of Mega Ride Pass-sporting thrill-seekers and culinary explorers seeking new sinful-yet-wholly-irresistible fried morsels. Enthusiasm for the throwback jam is in every rusty dance move at the Oklahoma Stage. Enthusiasm for glory at the rodeo. The incomparable awe and delight on audience faces during the high-jump competition segment in a stunt dogs show is life-affirming. Go to the Fair for people-watching, and you might just become a people too. 4145 E. 21st St. | tulsastatefair.com
Best
Health/Fitness Center
YMCA
FINALISTS: St. John's Siegfried Health Club, Sky Fitness
Best
Place to Strike a (Yoga) Pose
Guthrie Green
FINALISTS: Be Love Yoga Studio, SALT Yoga
Best
Public Park
Woodward Park
FINALISTS: Guthrie Green, River Parks
Best
Place to Hike
Turkey Mountain Urban Wilderness Area
FINALISTS: Chandler Park, Redbud Valley Nature Preserve
Best
Place to Go With Your Dog
Turkey Mountain Urban Wilderness Area
FINALISTS: Biscuit Acres Dog Park, River Parks
Best
Salon
Ihloff Salon and Day Spa
FINALISTS: The First Ward, Raw Elements
G.T. Bynum
At a time when social media etiquette is woefully absent from our country's leaders, GT Bynum is keeping it classy. Follow his Facebook or Twitter for a consistent stream of updates on how he's working to improve our city—or to see him celebrating others with the same goal. Also voted Tulsa's best politician, Bynum reminds us in ways big and small that he won by demonstrating respect and positivity at a time when mainstream politics couldn't be bothered with either. Facebook: @gtbynumfortulsamayor, Twitter: @gtbynum
Best Tulsan to Follow
on Social Media
FINALISTS: 918 Plate, Steve Cluck
Best
Politician
FINALISTS: John Waldron, None
Editor's Picks
Best Potential NOLA's Creole and Cocktails on Cherry Street. Seriously. We can't wait. Runner-up: Kitchen 27 at Philbrook Museum of Art—recently revamped and now run by Chef James Shrader.
Best Caesar Salad Fried Brussels Sprout Caesar at Amelia's. Holy shit.
Other Best Chinese Mandarin Taste. (With Golden Gate nabbing best classic American Chinese food and Sezchuan Express for drive-thru.)
Other Best Taco Pollo Asados al Carbon. Add the green sauce. And we'd like to give a special nod to El Burrito as TTV's "official business" lunch spot.
Other Best Burger TTV staff cannot agree. Claud's Hamburgers, Bill's Jumbo Burgers, Ty's Hamburgers, and Freddies Hamburgers are our leading favs.
Other Best New Bar The Starlite
Best new local restaurant Prairie Fire Pie. Half-price, half-size pies for happy hour. Woodfired pizza and fun fancy cocktails. (They do have $4 beer.)
Best dining experience The Tavern Chef's Table
Best build-your-own sushi-in-a-bowl Poke Bowl Love
Best lakefood Crawpappy's. We're teasing. They have a great crawfish étouffée!
Best new donuts The Donut Hole on Brookside
Best soft serve ice cream that we didn't know was missing from our lives Rotating flavors (á la whiskey cream, blue birthday cake, purple charcoal, dreamsicle, butterscotch, and tiramisu) at Lone Wolf's downtown location
Best new Tiki cocktail The Lady Door at Oren—banana and rum and Cachaça, oh my.
Best condiment Baby D's Bee Sting, providing five small-batch hot sauces with temps ranging from lip sweat to regret. Order at babydsbeesting.com and get stung.
Best place that makes us wish we lived farther south Levain Kitchen & Bakery
Best use of the former Maxxwells space Jane's Delicatessen. Can you say "breakfast baby Reuben sandwich"?
Best activist group New Sanctuary Network of Tulsa, working to end the wholesale deportation of undocumented people from our community
Best art collective Holy Mother Collective
Best drag show Bamboo Lounge—especially if preceded by a comedy show. Get your dollar bills ready. Second best drag show Midnight drag races at Osage Casino's Tulsa Raceway Park
Best future park Gathering Place. Get here already.
Best Tulsa-Italy connection Tulsa Artist Fellow Rachel Hayes's collaboration with high-end Italian fashion powerhouse Missoni on their 2018 spring/summer collection. See more at rachelbhayes.com andmissoni.com. Go Rachel!
Best local Instagram account It's impossible to pick just one. Here are some of our favs: @thisistulsa, @saisie, @spicydadrockmemes, @nategraceland, @pearljunior, and @no_jackson.
Best family night with an inflatable appliance race Tulsa Drillers game
Best performing arts company bringing "Hamilton" Celebrity Attractions
Best misspelled answer in the BOT nominations Be Okay Center
Best 10-year anniversary The BOK Center. Congrats!
Best Tulsa comedian not in Tulsa Marcia Belsky. Follow her on Facebook (her sworn enemy) right now.
Best Pool River Spirit Casino Resort pool, replete with a swim-up bar, poolside dining and beverage service, views of the oh-so-something Arkansas River, and no kids
Best place to rent an electric scooter and see an African penguin, Malayan tiger, Chinese alligator, and California sea lion The Tulsa Zoo
Best shop for obscure items you didn't know you wanted Good Mischief
Best shop for wicker furniture, brass stuff, and crystals Jo & June
Best lunch break 30-minute seated massage at Sole Massage. Pro-tip: add an essential oil for a sensory upgrade.
Best button company The Umbrella Button
Best same-day cleaners Phoenix Cleaners
Best intersection for cars to slow the f*** down and stop running into a nearby restaurant 15th Street and Peoria Avenue (We love you, Palace Café.)
Best defunct landmark The giant Liquid Life bottle on I-44
Best construction zone All of Tulsa; progress as promised
Best trafficked story on thetulsavoice.com "Casa Bonita reborn" from Dec. 2016. We cannot figure out why.
Best one-star review of TTV on Facebook "I remember when Urban Tulsa was nothing but food/music reviews & advertisements for strip clubs. Now it's just social justice smut."
Best five-star review of TTV on Facebook "Excellent! All you haters don't have to read it; you would shout down anyone with an opinion you don't hold. It is free! What would please you, a refund?"
Photography by Greg Bollinger, Valerie Grant, Michelle Pollard, Joseph Rushmore.